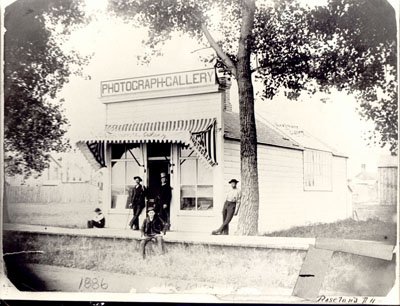 H. R. Koopman's Studio, 1886

From approximately 1884 through 1914, Henry R. Koopman worked for Pullman as its official photographer of the town and workers. In 1893 he published a book on the town called "The city of Brick". Koopman spent many years of his early life growing up in Roseland, the community immediately west of Pullman. He was born in Goeginchem in the Netherlands on July 10, 1865, emigrating with his family in 1866. His father, the Reverend Henry Koopman, preached in various Dutch settlements around the Midwest and in 1870 settled in High Prairie (renamed Roseland in 1873). The town had been settled in 1849 by a number of Dutch families and had about a hundred residents by 1860. Due to differences with his congregation, Reverend Koopman moved his family once more to Wisconsin and then New Jersey, where young Henry began to learn the photography business at Simpson's Photographic Studio. After his father died in 1884, Henry R. Koopman decided to return to his childhood town of Roseland to set up a photographic studio.

Roseland had grown since Koopman had left; both the suburb of Kensington and George M. Pullman's town of Pullman had grown up next to Roseland. By 1884 many of Roseland's residents were employed by Pullman's Palace Car Company. He built his first studio at 11106 S. Michigan Ave. in 1886 and, later, a three-story house on the same site. Koopman not only took photographs for the Pullman Company over several decades but delighted in photographing the people of his community at their weddings, graduations, and other life events. Many of his photographs were taken from rooftops and he chronicled Roseland's changing "main street" and community. He was very active in the community, belonging to the Pullman Band, operated a grocery store with his brother-in-law and friend, and helped found the Roseland Merchant's Association. On April 12, 1888 he married Katie Madderom; they had two children, Marie and Harry. His studio closed in 1913. In later years he and his daughter Marie Rowlands became active in the Calumet Historical Society. He died on April 26, 1944.