Labor and Race
The subject of race was inexorably tied to labor relations at the Pullman Company. The railroad industry -- and in particular, Pullman -- was the 2nd largest employer of African-Americans in the United States by 1910. The many strikes of the Pullman Company employees, whether they were Pullman Porters, factory workers, or workers in the Pullman Brickyards were a very real and often bitter part of the Pullman story.
Race Relations
African-Americans had a complex relationship with the Pullman Company, the Pullman family, with Robert Todd Lincoln, who succeed George Pullman as president of the company. The Pullman Palace Car Company was appreciated for its commitment to hiring African-Americans and paying them in a fairly equitable manner. Many porters were fiercely protective of both George Pullman and later of his widow Harriet and Pullman's family. In 1920, the Pullman Company was the 4th largest employer of African-Americans in Illinois and the 2nd largest employer in the nation.
| | |
| --- | --- |
| | |
A member of the board of the Pullman Bank, Robert Todd Lincoln became the second president of the Pullman Company, elevated to the thankless task of rescuing the Pullman Company from insolvency after Pullman's death. He performed this task with ruthless efficiency, making life difficult for Pullman porters and other passenger car personnel by inaugurating a wage system heavily dependent on tips. While black faces weren't unknown to the Pullman and Roseland neighborhoods, they were few and far between. Few African-Americans lived in Pullman and Roseland before 1920; after the 1919 race riots, the number dwindled to almost nothing.
Learn more about race relations
THE PULLMAN HISTORY SITE
Labor & Race Relations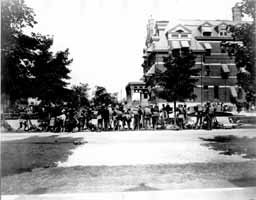 Labor Relations
Race Relations
Images of Pullman Labor History
Images of Pullman & African-Americans
Other Pullman-Related Sites