The Great Corliss Engine
This remarkable mechanism was a simple condensing engine. It was finished in 1876 requiring seven months to build. It furnished power for running the machinery at the Philadelphia Centennial Exposition in 1876. It was purchased by George Pullman in 1880 and was moved from Providence RI where it had been in storage after the run of the Centennial Exposition to Pullman, requiring a train of thirty-five cars to transport it. It was shaped like the capital letter A and from the floor to the top of the walking beam was forty feet. The cylinders were forty inches in diameter affording a ten-foot stroke. The diameter of the crankshaft was eighteen inches and twelve feet long. The diameter of the large gear (fly) wheel was thirty feet with a face of 24 inches and was the largest gear wheel in the world. The gear wheel meshed into a pinion wheel that powered 3268 feet of main power shafting located in tunnels 4-5 feet below grade in tunnel. From the main power shaft, approximately 13,000' of overhead shafting and two miles of belting applied to the machinery in the car shop. The engine was capable of developing 2500 horsepower.
THE PULLMAN HISTORY SITE

More Information About the Pullman Company
Factory Complex from the North
Products from the Factory
Images of the Corliss Engine
The Great Corliss Engine
Images of the The Water Tower
Left to right, The Allen Paper Wheelworks, The Water Tower, and the Corliss Engine House.
Images of the The Pullman Building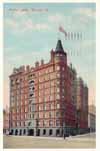 A postcard image of the Pullman Building.
H. R. Koopman Collection
The Studios of H.R. Koopman
From
A Romance of the Rail
, 1903
Other Pullman-Related Sites