Introduction
At the turn of the 20th century, Pullman-- and particularly the phenomenon of the Pullman Porter-- caught the public's imagination. A journey on a Pullman car summoned up images of romance and adventure. In a rigidly segregated society, Pullman Porters were probably the only African-Americans that most of white society ever truly interacted with. As a result, Pullman Porters were also used in the era's minstrel shows; some of the words and images of the assembled tunes are blatantly racist and insensitive. The mystique and romance of rail travel is described in the sheet music of the period, 1871-1921. The small image of the musician (
) indicates that the music has been scanned, optically recognized, and converted into MP3 format; the tunes are also available as MIDI files
by clicking here
Music Inspired By Pullman
The Porter in a Pullman Car.
William H. Bray.
Cincinnati: Church, John, 1880.

(1.7 mb)

The Corliss Engine March.
Sep. Winner.
Philadelphia: Sep. Winner & Son, 1877.

(4.1 mb)

P.P.C. Waltz.
Jno. C. Minton.
Cleveland & Chicago: Brainard's Sons, S., 1880.

(4.97 mb)





Pullman Car (Song).
Chas. J. Miers.
Philadelphia: Lee & Walker, 1871.




(<1 mb)

De Pullman Porters' Ball.
Stromberg, John.
New York : M. Witmark, c1901.

( 1.4 mb)



Porters on the Pullman Palace Cars.
Geo. Phillips.
New York: C. H. Ditson, 1884.

(1.3 mb)

Pullman Porter Blues.
Hamilton, Burton & Clifford Ulrich.
New York : Leo. Feist, Inc., 1921



(2.2 mb)

Pullman Porter Man.
Behim, Arthur E.
New York : J.H. Remick & Co., c1911.

Pullman Porters Parade.
New York, New York, Maurice Abrahams Music, 1913.

(1.8 mb)





Tourists in a Pullman Palace Car (Tourists' Polka).
Chas. D. Blake.
Boston: White, Smith & Co., 1880.

(2.5 mb)

Tourists in a Pullman Car.
Geo. Bowron.
New York: Spear & Dehnhoff, 1880.

Pullman Car (Sunbeams).
Mack, E.
Philadelphia: Lee & Walker, 1872.

(<1 mb)
How The Music Was Encoded
The Pullman State Historic Site owns all of the twelve tunes selected to be a part of this exhibit, so the music was carefully scanned as 300-400 dpi images in TIFF format, no compression. The TIFF images were then "read' into Visiv's SharpEye 2 optical musical scanning software program. Depending on the cleanliness of the original, this process had an error rate of 70-95%, with Pullman Porter Man having only 20 errors and Tourists in a Pullman Palace Car 223. All errors had to be manually corrected, using SharpEye's very nice editing features. All stanzas were inspected on every musical selection. The assembled OCR score, once corrected, was then exported into MIDI format, where it was then opened up in Myriad's Harmony Assistant program. This was preferred, because it allowed a very sophisticated series of instruments and playback options. We selected instruments that sounded like upright Victorian pianos; in many cases, the lyrics line is played back as a honky-tonk piano, while the supporting bass and treble lines were kept to more sedate parlor pianos. The reverb is what we imagine these tunes would have sounded like had then been played in the Hotel Florence (with its Minton tile lobby) in 1885. The files were then exported into mp3 format.
THE PULLMAN HISTORY SITE

More Information About the Pullman Company
Factory Complex from the North
Products from the Factory
Images of the Corliss Engine
The Great Corliss Engine
Images of the The Water Tower
Left to right, The Allen Paper Wheelworks, The Water Tower, and the Corliss Engine House.
Images of the The Pullman Building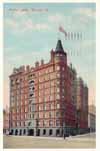 A postcard image of the Pullman Building.
H. R. Koopman Collection
The Studios of H.R. Koopman
From
A Romance of the Rail
, 1903
Other Pullman-Related Sites