The Stables
The Pullman Company required that all horses and carriages be kept in the stables building.
The Stables, ca. 1885.
Carved, wooden horse heads set into the facade made the purpose of the building unmistakable. The location of the facility kept clean-up tasks to a minimum. At the turn of the century, a popular Sunday afternoon activity was to rent a carriage and team to tour the countryside and enjoy a family picnic. The cost at that time was $3.00 per day.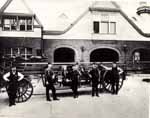 Posing in front of the firehouse at the stables
THE PULLMAN HISTORY SITE

More Information About the Town of Pullman
Planning the town
The Arcade Journal
The Hotel Florence
The Arcade
Arcade Park
The Stables
Market Hall
Area Churches
Area Schools
The Freight Depot and the Railway Station
Other Pullman Buildings
The Pullman House History Project
Arranged by:
Maps of Pullman
1897 Sanborn Map
Images of the Town of Pullman
Vistas
Art & Architecture
Pullman's Neighborhood
Buildings in Pullman
Other Pullman-Related Sites